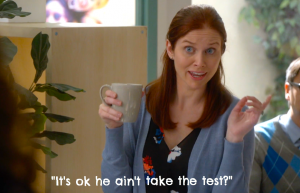 This Wednesday October 18th at 7:30/8:30c, I'm back again on ABC's Speechless as the English Teacher who is… um, not so good at her job. I'm excited and grateful to be recurring on this sweet, poignant and funny show.
For this episode, I had to do some physical comedy, a minor stunt, and learn a new skill! I can't wait to see how it all turns out in the edit.
Check it out! And thank you for your continuing support!